Exhibiting comes with a big price tag. Booking the space itself can make a big dent into your marketing budget, depending on the show you are planning to exhibit at and the size of your booth.
Then the stand itself. Most marketers spend around 40% of their available event budget on the stand. Once you add travel, accommodation, graphic design, print, furniture hire, merchandise and other essential things, there isn't much left of your budget – even if it looked quite healthy to begin with.
But there are some simple ways to make a saving. Every small amount counts, so here are some tips on how you can make savings for your next exhibition right now:
Early bird discounts
The event organisers are keen to fill up their available space quickly so the earlier you book the lower the costs for the space will be. This can also be the case for their utilities, marketing package or catalogue entry. Contact them well in advance of the next show (6-12 months) and ask what they can offer.
Stand costs
Of course, you want the stand to look amazing, but many gadgets, displays or stylish furniture can quickly add to the costs. Instead concentrate on making the stand look great with high quality graphics (ideally reusable). If you have booked a shell-scheme stand, where you would usually see the metal bars with white walls, there are brilliant techniques to cover the walls with graphics. The type of stands can be hired at relatively low cost and make a huge difference in look and appeal to your visitors!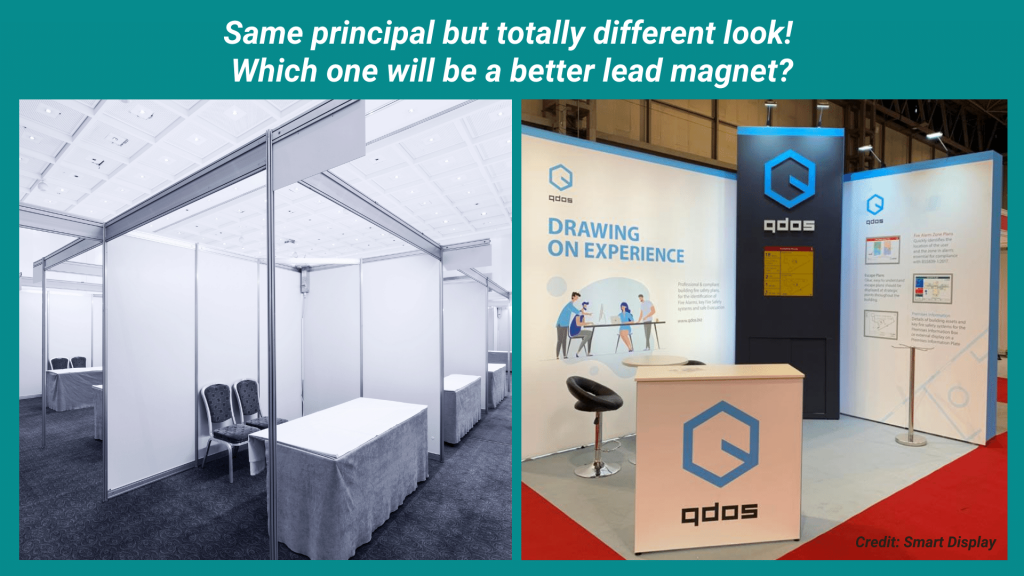 Travel & Accommodation
Usually, it is decided only weeks before the show who from your company will go and man the stand and which days they will cover. Booking flights, hotels and local transport now will be very costly. Of course, these costs go up the closer the show start date is. Book early! My tip: Find a travel agent that will book you the required number of rooms, but without any names (for now). Even if you have to pay a small fee to add/change a name, it will still be much cheaper than booking last minute.
Also make sure the people that come to the stand are there for a reason (meaning to man the stand and promote) and not just to 'visit' and to see 'how it is going'. This is wasting time and money. Okay, maybe the CEO has this right, but everyone else really should have the purpose to be part of the stand and attracting leads. That's why we are all exhibiting, right?
Marketing Materials
Find out if the organisers have prepared templates and graphics for to download and use to advertise the event. These will often allow for your stand number and logo to be added and will save you a lot of money instead of a graphic designer creating these for you from scratch. The same goes for social media posts. Us e what you can get your hands on (always have permission of course!) .
Order business cards in bulk. Ask every team member (even if they won't go to the show) if they need new business cards and place a large order. There is often a discount even if it is for different names.
Make sure you order give-aways early. The cheaper option is often to buy directly overseas, but they will take 6-8 weeks shipping plus production time, so plan ahead but pay less.
One of my clients often ended up sending materials and products to most shows by express airfare, which costs a fortune. This only happened because the products they wanted to exhibit had to be manufactured on site first and every time they 'forgot' to put the order in on time. It became a habit and a huge expense that was unnecessary. When I took over the shipping was done via normal road courier and they paid only 25% of the usual costs! Plan ahead and make sure things are prepared as much as possible to avoid costs like this.
Planning is key
Generally, avoid booking anything last minute, no matter if it is furniture, travel arrangements, WIFI or graphics. All of those things will cost more because they need to be done to a short notice deadline which will raise the cost of the supplier. Trust me, there will be enough last-minute things that will need sorting out – it always happens, but don't make it a habit and a part of your costs if it can be avoided with a bit of organising.
Use this checklist to plan ahead and get organised. It is a great way to know what needs to be done and when.
There are lots of savings that can be made in the process of planning a trade show stand, but it takes smart planning and also team work. Unless you have endless budget to burn, I am sure everyone involved will be happy to step up to the task to save money. And why not spend it on a feature that will really appeal to your audience and excite them to visit your stand or on a marketing campaign that will get you more quality leads than ever!