Background
In the beginning of last year, I was asked to bring a German company into the 21st century by creating a social media strategy. They were in the process of building a new website and had an established relationship with a graphic designer.
Challenge
The industry is very niche and I was told the market is very 'dinosaur' like in terms of social media or online advertising.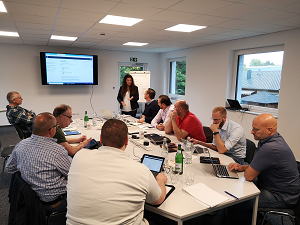 Approach
After meeting the management team in person and getting to know the company during a visit in Germany, I started by looking at their competitors' activities online and where the ideal customer can be found. In a detailed report I laid down my findings and recommendations. Next day I was hired to create social media platforms and to fill them with interesting and relevant content.
One year on and I have been growing their audience organically slowly and steadily (remember: very difficult market!). I held a 2-day workshop to train the entire Sales Team on how to use LinkedIn as a networking and sales tool, utilised the support from their suppliers online and started crafting a product campaign for this year. I regularly work with individual sales team members to help them grow their network and create attractive posts.
Outcome
As a result, their LinkedIn business page had awesome results:
New visitors: +366%
Post activity: +674%
New Followers: +250%
The company is the only one that has this presence in their market. This is a huge advantage to competitors and even if they decide to go online any time soon, it will take them a long time to grow their audience and this company is already up and running.
No one in the company had the knowledge or experience with social media and I was happy to take them through it, but also include them in the progress. Most of the sales staff are now confident to use social media and are impressed with the opportunities that it has given them.