Background
I get it….marketing isn't always on the top of the priority list when you launch your own business, But somehow most business owners know or feel that some sort of marketing should be done to get the word 'out there'. Biggest question is though: How much will it cost? 
Challenge
In the case of a local fitness trainer who runs boot camp classes, she had little to no money to spare. But she is working her behind off to get her small business off the ground even though life had thrown her a lot of rocks in the way.
When I met her for the first time (she was running one of her boot camp classes outside on the 31st Dec!) I loved her energy and passion for her business straight away. She is one determined lady! But as I said, financially she struggled to make ends meet.
Approach
We came to an agreement that I will update her social media pages and make them as good as I possibly can with a few hours of my time. The really good thing is, that she likes to post regularly herself, so ever since we met nearly 6 months ago, I create a social media plan for her that takes away the headache of coming up with something new every day. I also created her some social media templates that she can use to keep consistent with branding and I have given advice for her website.
When COVID-19 struck, she quickly reacted and brought her business online and I directed my input for social media in the same way.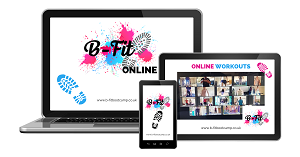 Outcome
The online classes are very popular and her audience and customer base is growing steadily and she can't wait to meet the new customers in person on the boot camp field, once the lockdown is over.